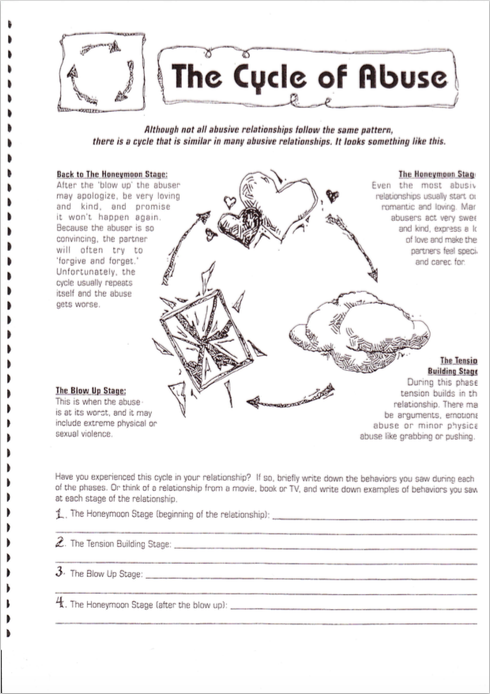 Although not all abusive relationships follow the same pattern, there is a cycle of abuse that is similar in many abusive relationships.
Research shows abuse tends to be mutual, with both partners using a variety of verbal and nonverbal ways to communicate abusively. Because much of these behaviours are learned, it can also be unlearned and new behaviours can be taught.
The Cycle of Abuse
The Honeymoon Stage
Most new romantic relationships start off polite and loving (with a healthy dose of dopamine!).
They may be filled with acts of love and kindness, and efforts are made to make each other feel special and cared for.
Abusive behaviours may start to appear gradually; often increasing because they are not addressed clearly and effectively when they come to the surface.
The Impending Storm Stage

As relationships develop, oftentimes additional stressors arise, such as employment, children, health, financial, and other family concerns.
These stressors require better negotiation and problem-solving skill levels. Without good skills in these areas, increased arguments and conflicts can develop. In the absence of an effective communication strategy, disagreements often will result in the escalation of emotional abuse.
The Hurtful Stage

This is when negotiation, problem solving, and conflict resolution skills are the

most

needed, and yet under utilized.
At this point, people may resort to: name calling, blaming, accusations, demands, and threats ("I'm done with you!" "It's over!" "There's not point going on!"). In the worst cases, physical and other forms of violence will emerge.
Some people may distinguish between minor and extreme physical, psychological or sexual violence; however even minor acts may best be seen as a serious red flag and a need for intervention.
The Calm after the Storm Stage (Apology Stage)

Through face, tone, or words, people will send messages of an apology in hopes there is no need to confront the issue again and to avoid negative consequences (e.g. break-up, police involvement).
Without seeking solutions and new strategies for negotiation and conflict resolution, the cycle of abuse will most likely repeat itself.
Your safety and well-being is important to us. If you and/or your partner or family member are engaged in a violent or abusive relationship please call for help. If you would like support or assistance with getting help Contact us today
You may also want to reach these services:
Durham Regional Police Victim Services 9

05-579-1520 ext. 1846 or Toll Free 1-888-579-1520 ext. 1846 

Kids helpline 1-800-668-6868