Do Manners Influence Mental Health ?
It is difficult to admit that I visited McDonald's at midnight this past week, mostly because I am a long way from my teens and aware that the product quality may not be the best choice for my physical wellness. Nutritional value aside, I did not expect to experience such human disconnection and absolute dishonour at the hands of this giant retailer!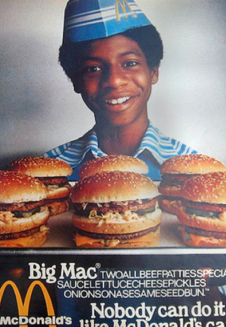 There was a day when manners were expected by every staff member employed by the Golden Arches conglomerate McDonald's.
At fifteen, I appreciated the opportunity to be employed by this company, making it possible to afford food and housing at a very difficult time in my life. I recall being offered the job, but only, as the manager said, "if you cut your hair". Yes, I had fairly long hair in the mid-seventies and that was not considered appropriate for working in the food service industry. We were also required to use manners for every request. The front staff would call out; "Six Macs please" (twelve or twenty-four if it was busy) and, as a grill person, I was required to respond; "Laying six Macs thank you". This was required for Macs, Fries, Quarterpounders and even the Filet-O-Fish. You may get a caution or two but manners were an essential part of the McDonald's staffing philosophy. Essential meaning use your manners or you do not work here!
McDonald's strives to offer the same experience at every store in every country so I hope what happened to us is not spreading globally. Still today, their Canadian website offers McDonald's staffing vision as follows:
"Our People Vision"

"At McDonald's® Canada our People Vision is for our people to feel valued and proud to work here. In fact we aim to be the best employer in every one of our Canadian communities."
The staff we encountered did not reflect this vision. So what did we experience and was it as bad as we think it was? You be the judge. Just after midnight we had the idea to get a cone so we pulled into the drive through at Crossroads McDonald's – Weston Road and 401. It took nearly ten minutes to approach the ordering sign alone. Either we really wanted a cone or the fact we had no way to exit the drive through influenced our patience?
When we arrived to order, a really upbeat and friendly automated voice greeted us followed by silence. We asked "Are you there" with another half minute of silence broken through by what sounded like a very depressed young lady's voice… "Yes, what do you want". The reverberation and distortion in the speaker system was also unusually high.
We placed our order which was not responded to with a thank you that is so commonly spoken in retail and fast food services. The woman did not even say the usual "please pull up to the next window"? Ok, maybe she is just having a bad day? We then waited for ten more minutes to get to the window to pay. What happened next was appalling. The young woman opened the window, went out of her way to not make eye contact, reached out her hand for our money, took the money, closed the window, re-opened it and gave the change then closed the window without a single word spoken nor any semblance of kindness or caring. She later opened the service window and handed us our food, closing the window again without saying one word during the entire interaction… no please, no apology for a twenty-five minute drive through wait and no thank you.
Am I making a big deal over something small or is this discourteous approach to retail becoming all too commonplace? I have experienced this at a number of places over that past few years. Are employers resigned to not expect their staff to great people politely, to use common courtesy and to act happy about the customers' decision to shop at their stores? Is it too much effort to train staff due to high turnover in low or minimum wage workplaces? I think NOT!
When I was struggling as a young teen, I was angry, upset, frustrated to be living on my own and quite comfortable with being rude to others fairly regularly. I was in an "I don't care" mode almost daily. I had more "Stinkin Thinkin" about myself and others, than any other time in my life, but, when the manager said "cut your hair" and "you must use manners consistently" I had a decision to make – eat or keep being rude. Nine months of following the courteous and polite requirements at McDonald's (circa 1973) taught me the importance of manners. I had to "fake it to make it" for manners to become a real part of my life.  Eric Erikson identified this stage of personality development as the identity crisis.  Successful completion of this stage involves the young person's development of a clearer understanding of who they are, relative to others, their likes and dislikes and their place in the world.  Erikson postulated that a failure during this stage would inevitably lead to role confusion.  Role confusion is certainly one of the factors in life that contributes to anxious and depressed mood.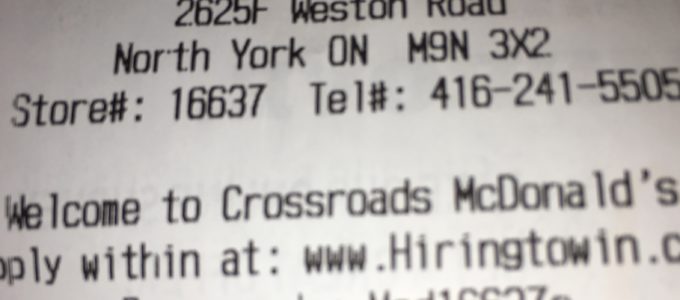 I sure hope management and owner(s) at Crossroads McDonald's use better manners than those of their staff last Thursday night. I have my doubts though as I have come to learn that staff often mimic or follow the way they are treated. Perhaps this is why www.Hiringtowin is listed right on their sales slip. On their careers web link below, McDonald's still espouse the following:
"We believe the best people in the world work right here."
I believe, if McDonald's management had not expected me to be polite during my middle teens I would not have been just like the staff I had the displeasure of meeting the other day. Sadly, I may have never realized the value of being polite, the impact that using manners has on how I feel and, possibly, I may have never grown to expect this from our children, colleagues and staff.
Being nice to one another is one major way we can improve our mental health. Research shows that being kind, altruistic and using of polite, personal gestures helps both the receiver and the sender feel happier and more satisfaction.
Manners matter McDonald's and every other retailer out there. When you insist upon this you help staff and customers feel better. Please change your training expectations and service practices accordingly to foster improved overall wellness in our communities.